Dynamics Mobile Studio allows the developer to author and use resources across the components within a single mobile module. The resources are named "files" with content of various types like CSS, XML,TEXT,HTML and others.
The Resources section can be accessed via the Resources link on the left in Dynamics Mobile Studio.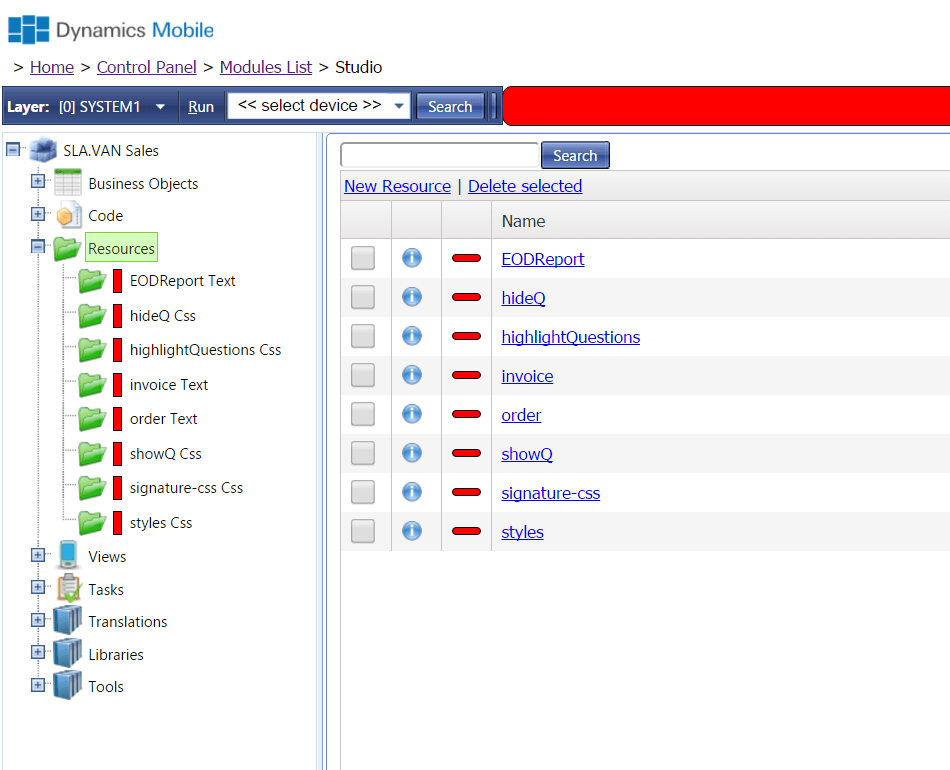 The Resources section provides a list containing the resources available in the current module.
The list provides information about:
The Name of the resource
The Type of the resource
Note that the Name of the resource usually will contain the name of the file ( for example default.css or myimage.png)
The developer can perofrm the following actions:
Adding new resource by clicking the Add Resource button.
Deleting existing resource by checking the checkbox next to the resource and clicking the Delete button on top
Opening existing resource by clicking the resource title
Opening the resource properties by clicking the (props) icon next to the resource
Adding a new resource
The developer can add new resource by clicking the Add Resource button on top and entering the name and the type of the resource. Dynamics Mobile Studio supports the following resource types:
css – Cascading Style Sheet content
xml – XML formatted content
image – image in one of the popular image formats ( jpg, png, gif, ico,bmp )
text – plain text content
html – html formatted content
barcode – pattern matching rules used in barcode / nfc pattern parsing scenarios
The developer must persist the resource by clicking the Save button. The new resource have to be opened again by clicking the resource name from the list. It will navigate to the resource content editor.
The resource content editor will provide different functionality depending on the actual resource type.
The resource content editor will provide syntax highlighting for the Css,Xml and Html resources.
The developer can edit the content and clicking the Save button on top to save the changes.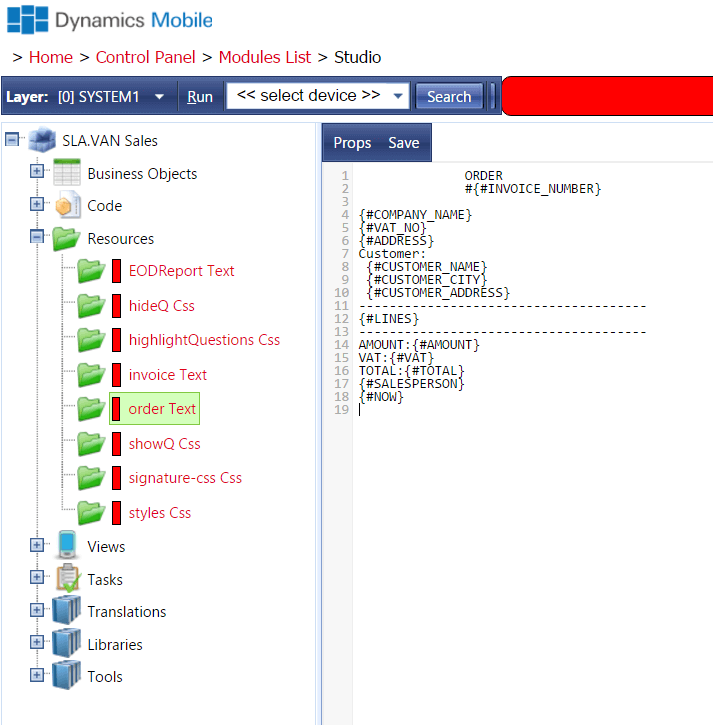 The resource content editor allows the developer to upload images, when the resource type is image.